WYOMING RECOGNIZES WOMEN'S SUFFRAGE
A bill introduced by William Bright to the first Wyoming territorial legislature passed in 1869, recognizing women's right to vote.
There are many differing opinions as to why the bill passed.
WyomingPBS, in partnership with Caldera Productions, attempt to address these varying opinions in the documentary "The State of Equality."
WYOMING'S FIRST FEMALE JURORS AND BAILIFF
Three months after the Wyoming Territorial Legislature recognized women's rights to vote and hold office, women were called to serve on a grand jury—the first time in history.
Martha Symons Boies was selected to act as a bailiff for that same grand jury, the first woman in history to serve in such a judicial position.
To learn more, click here.
FIRST FEMALE JUSTICE OF THE PEACE
Esther Hobart McQuigg Slack Morris became the first female Justice of the Peace in South Pass City, Wyoming. During Morris's eight and a half months in office, she proved to be an efficient public servant. By her own reckoning, she tried about 30 civil actions, and only one of her rulings was appealed (and a higher court affirmed that one).
To learn more, click here
9 YEARS EXPERIENCE OF WOMEN'S SUFFRAGE
What did equality look like 140 years ago? This newspaper article from 1878, made accessible by the American Heritage Center, gives us a glimpse into views of women at the time, and why women's suffrage might not have meant "equal".
FIRST WOMAN IN WYOMING ELECTED TO A STATE-WIDE OFFICE
Estelle Reel was elected as Wyoming Superintendent of Public Instruction in 1895, making her the first woman in Wyoming to be elected to a statewide office. Three years later, she would become the first woman to be confirmed for a federal office by the Senate when she became the National Superintendent of Indian Schools.
To learn more, click here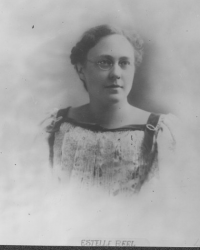 FIRST WOMAN TO SERVE IN THE WYOMING LEGISLATURE
Mary Godat Bellamy was the first woman to be elected to the Wyoming Legislature in the state's history. She was elected to the House of  Representatives in 1910 and served a single, two-year term.
To learn more, click here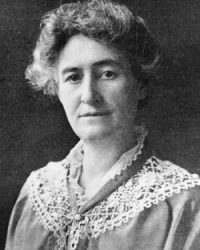 FIRST FEMALE GOVERNOR AND DIRECTOR OF THE BUREAU OF THE MINT IN THE NATION
Nellie Tayloe Ross became the first female governor in the nation in 1924, following her husband's death.
Nellie became the director of the Bureau of the Mint, the government agency responsible for making new bills, new coins and melting down old ones in 1933. It was a big job, and Nellie was the first woman to hold it.
To learn more, click here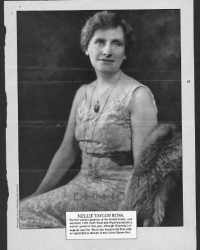 AN INTERVIEW WITH NELLIE TAYLOE ROSS
After the installation of the statue of Esther Hobart Morris in Washington, D.C., Senator O'Mahoney and 1st Female Governor Nellie Tayloe Ross discuss women's suffrage in this 1958 interview
FIRST AFRICAN AMERICAN WOMEN TO SERVE IN THE WYOMING LEGISLATURE
Harriet Elizabeth Byrd was the first African American woman to serve in the Wyoming House, and then later became the first African American woman to serve in the Wyoming Senate. During her years in the Wyoming Legislature, Liz Byrd sponsored a bill to make Martin Luther King Day a state holiday nine times before a version adding "Wyoming Equality Day" to the holiday's title was adopted in 1990.
To learn more, click here
FIRST ASIAN INDIAN-AMERICAN WOMEN TO SERVE IN A STATE LEGISLATURE
Nimi McConigley was the first Asian Indian-American woman elected to a state legislature in the country. She served in Wyoming House of Representatives from 1994 to 1996, often wearing her traditional Sari on the House floor. Instead of running for another term in the state legislature, Nimi ran against Mike Enzi and John Barrasso for Alan Simpson's vacated U.S. Senate seat. Nimi was also the first woman of color to run a TV news station in the United States.
To hear more of Nimi's courageous story, listen to Lindsay Linton Buk's podcast Women in Wyoming.
FIRST WOMAN TO SERVE ON WYOMING'S SUPREME COURT
Marilyn Kite became the first woman to be appointed to Wyoming's highest court as a Supreme Court Justice, and later as Wyoming's first female Chief Justice.
Hear her talk about she came to serve in Wyoming's Supreme court, why she felt a woman should have occupied that position years earlier, and how more women can follow in her footsteps by listening to Lindsay Linton Buk's podcast Women in Wyoming.
FIRST FEMALE JUDGE TO SERVE IN THE DISTRICT OF WYOMING
Nancy Freudenthal, former first lady of Wyoming, was confirmed by the US Senate to the United States District Court for the District of Wyoming. To learn more, click here.
FIRST NATIVE AMERICAN TO SERVE IN WYOMING SENATE
Affie Ellis is the first Navajo and first Native American person to ever serve in the Wyoming State Senate. To learn more, click here.
"I THINK THERE ARE TALENTED PEOPLE ALL ACROSS THE STATE, BUT UNLESS AND UNTIL THERE'S AN OPEN SEAT, THEY DON'T EVEN THINK ABOUT RUNNING. I CERTAINLY HOPE I NEVER START THINKING THAT WAY, BECAUSE PEOPLE CAN AND THEY WILL RISE UP."
-Wyoming Senator Affie Ellis
Affie Ellis in Cheyenne, Wyoming. Photo from Women in Wyoming
WYOMING GAINS FEMALE-MAJORITY SUPREME COURT
Kari Jo Gray joined the Wyoming Supreme Court in 2018, bringing it to a female-majority bench. There are five justices of the Wyoming Supreme Court, currently three of them are women. To learn more, click here.
FIRST NORTHERN ARAPAHO WOMAN TO SERVE IN WYOMING LEGISLATURE
Andrea (Andi) LeBeau was the first Northern Arapaho woman to be elected to the Wyoming Legislature when she won in 2018. To learn more, click here.
"WE STILL HAVE A WAYS TO GO ON THE NATIONAL, STATE AND EVEN MY TRIBAL LEVEL FOR WOMEN TO BE EQUAL," SHE SAID. "MY HOPE WOULD BE TO INSPIRE WOMEN AND MEN, GIRLS AND BOYS TO SUPPORT EACH OTHER, TO ENCOURAGE EACH OTHER TO GET PAST THE STIGMA OF A WOMAN BEING IN LEADERSHIP POSITIONS."
-Wyoming Representative Andi LeBeau