WYOMING WOMEN'S ANTELOPE HUNT
THE HONORABLE MARILYN KITE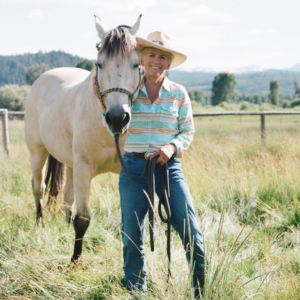 Photo and text courtesy of Lindsay Linton Buk, Women in Wyoming.
In 2000, Marilyn Kite became the first woman to be appointed to Wyoming's highest court as a Supreme Court Justice, and later as Wyoming's first female Chief Justice. During her time on the bench, she was tasked with re-writing the state's school finance case and helped to establish an access to justice fund for Wyoming. Marilyn is thoroughly a Wyoming woman – she was born in Laramie, attended the University of Wyoming, stayed in Wyoming after graduation where she'd be an influential force in developing the Wyoming branch of Holland & Hart (now a nationwide law firm). Marilyn is an accomplished horsewoman and was one of the "founding mothers" of the first women's antelope hunt in the country to benefit the Wyoming Women's Foundation.
Hear about how she came to serve in Wyoming's Supreme court and how more women can follow in her footsteps by listening to Marilyn's full Women in Wyoming interview.
WYOMING'S FIRST LADY JENNIE GORDON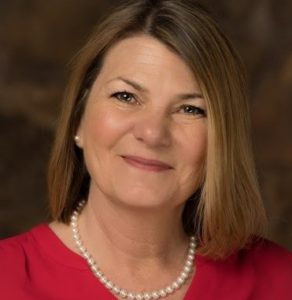 Jennie Gordon Official Portrait.
Jennie (Muir) Gordon currently serves as the First Lady of Wyoming. Prior to that, she managed day-to-day operations at Merlin Ranch, the Gordon family's cow-calf and heifer development operation located in Johnson County. The Governor and First Lady have four grown children, Anne, Aaron with wife Megan, Bea with husband Austen, and Spencer with wife Sarah and their son Everett.
The First Lady grew up in Omaha, Nebraska until her family moved to Buffalo, Wyoming. Her father, Senior Master Sergeant Robert Muir, served in the Navy, Army and the Air Force. Jennie's mother, Gertrude Muir, was from Austria and after surviving World War II in Vienna, she moved to the United States. She learned English and raised the family's ten children, often with Sergeant Muir serving away from home. Four of her siblings have served, or continue to serve, in the armed services.
The First Lady received her Bachelor's Degree in Health Sciences from the University of Wyoming. She worked for 15 years as a laboratory medical technologist at Sheridan Memorial Hospital. She later served as a field service representative for Abbott Laboratories where she traveled throughout the western United States repairing and servicing laboratory equipment at hospitals, clinics and private practices.
When Governor Matthew H. Mead appointed her husband to serve as Wyoming Treasurer in 2012, the First Lady took over management of the Merlin Ranch full time. The ranch has garnered national recognition for its environmental stewardship and conservation achievements, as well as efforts to promote the sale of Wyoming beef worldwide. Jennie served on the board of the Wyoming Stock Growers Land Trust and is a recent graduate of the Wyoming Leadership Education and Development (L.E.A.D.) class.
In October 2019 Jennie launched the Wyoming Hunger Initiative, whose mission is to end childhood hunger in Wyoming. The initiative works to prevent food insecurity by increasing awareness and support for the work of local anti-hunger organizations statewide. For additional information, visit https://www.nohungerwyo.org/
KAREN MEHALL PHILLIPS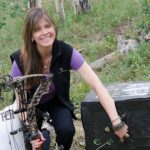 Karen Mehall Phillips, is the senior editor of NRA's American Hunter and director of communications for the NRA Hunters' Leadership Forum. As an avid rifle and bow hunter, Karen draws on her experience to educate non-hunters on the critical role that hunters play in wildlife conservation worldwide and to inform them of the impact anti-hunting activists present to the future of wildlife conservation. 
Karen enjoys promoting women and families in the outdoors and is the founding editor of two NRA official journals, America's 1st Freedom and Woman's Outlook, and a founding member of the Professional Outdoor Media Association.
A member of numerous hunter-backed organizations, she is also a life member of the NRA, Mule Deer Foundation and Dallas Safari Club (DSC) and serves on the DSC Foundation board of directors.
JAMIE TEIGEN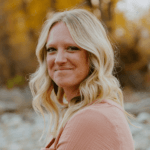 Jaime grew up in Northern Idaho, where her love for the outdoors began. It wasn't until working at a friend's restaurant after high school that her love for cooking really took flight. Shortly after attending the Western Culinary Institute, she moved to Jackson Hole, WY where she started her career as a chef.
Her passion for hunting and appreciating the process of harvesting their own meat started when she met her husband, and now continues as something she can share with her daughter. These experiences remind Jamie of the true meaning of being connected to your food, so that she can share that with her friends and family. Currently, Jamie is the Owner and Chef of Mountain Pines Catering in Bozeman. 
2022: Special Guest Senator Affie Ellis
SENATOR AFFIE ELLIS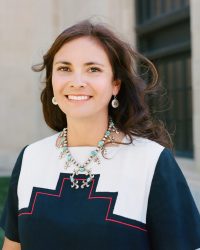 Affie Ellis is the first Navajo and first Native American person to ever serve in the Wyoming State Senate. 
In addition to representing Wyoming's 8th District in Cheyenne, she serves as the Chairman of the Senate Travel, Recreation, Wildlife and Cultural Resources Committee, the Vice-Chairman of the Senate Education Committee and the Chairman of the Select Committee on Tribal Relations. Senator Ellis is also the Senate Co-Chairman of the bi-partisan Wyoming Women's Legislative Caucus, which organizes an annual Leap Into Leadership conference to encourage women to run for office.
Affie is married to her college sweetheart, Dennis, and they have three children. In her spare time, she enjoys camping, paddle boarding, riding her bike, and quilting.
2021: Media Guest Kristy Titus
MEDIA GUEST KRISTY TITUS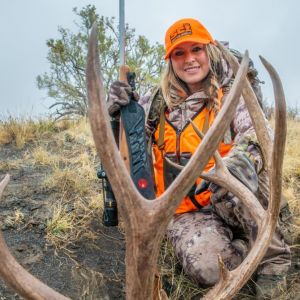 Photo and text by Pursue the Wild.
Kristy was raised leading a pack string of mules into the backcountry of Oregon, experiencing the thrill of public land, fair chase, do-it-yourself western big game hunting. She is passionate in the support of wildlife and habitat conservation, serving as an Ambassador for Safari Club International and serves on the NRA Hunting and Wildlife Conservation Committee.
She is an NRA certified Basic Pistol Instructor, Refuse To Be A Victim Instructor and Range Safety Officer. Kristy is a competitive shooter on Team Ruger, participating in the Precision Rifle Series and National Rifle League Series.
She hosts and produces Pursue The Wild, a digital series airing on Facebook, YouTube and Amazon TV. In her series, Kristy is educating viewers while inspiring movements that broaden the reach of conservation and strengthen support of the Second Amendment and increase shooting sports participation. Kristy is an outspoken Second Amendment advocate that has dedicated her life to teaching and promoting firearms, conservation and hunting.
2020: Media Guest Mandy Fabel
MEDIA GUEST MANDY FABEL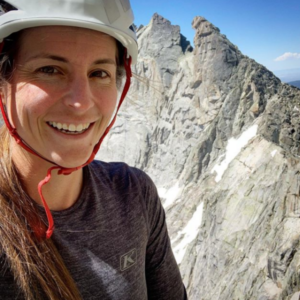 Photo from Granola & Gasoline Instagram
Mandy Fabel is the Executive Director of Leadership Wyoming and the co-founder of the outdoor brand Granola and Gasoline. She is passionate about Wyoming and helping leaders become the best version of themselves, as well using humor and adventure to crush stereotypes.
Alongside her husband Brian, and thousands of online followers, she shares her passion for outdoor recreation and conservation. By unifying more people around those very things, Mandy opens doors to adventures, opportunities, and mindsets that people may have preemptively closed themselves off to.
2019: First Lady Janet Holcomb, State Auditor Kristi Racines and media guests Crystal Gibson, Danielle Prewett and Bridget Fabel.
FIRST LADY JANET HOLCOMB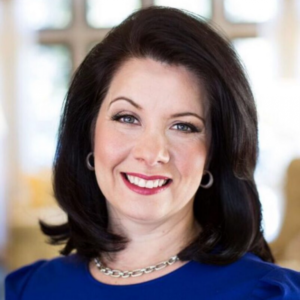 First Lady Janet Holcomb is the wife of Indiana's 51st Governor Eric Holcomb. Governor and First Lady Holcomb live in the Indiana Governor's Residence with the First Dog Henry. It should be noted that Henry, a miniature Schnauzer, has thousands of fans on Facebook, Twitter and Instagram.
She grew up on a horse farm near Muncie, Indiana, where horses and ponies were her first passion in life. Janet rode competitively and loved participating in regional shows and 4-H. First Lady Holcomb holds bachelor's and master's degrees in fine arts from Ball State University. As a master's candidate at Ball State, Janet held a graduate assistantship with the David Owsley Museum of Art.
As the daughter and granddaughter of small business owners, some of her most valuable lessons were learned at the family dinner table. Beginning in 2009, she served as vice president of her family's manufacturing business, R&R Engineering. Janet has led record-setting political fundraising efforts at the federal, state, and local levels as well as fundraising for non-profit organizations including veterans' groups, social service providers, animal welfare, arts organizations and scouting programs.
As First Lady, she actively promotes development opportunities for women in business in partnership with the Indiana Economic Development Corporation. She is an advocate for youth organizations such as 4-H and scouting, and is engaged in combating infant mortality. She is a member of the Riley Children's Foundation Board of Governors and sits on the board of directors for the Hoosier Salon and the Indiana FBI Citizens Academy.
The First Lady particularly enjoys sharing her passion for shooting sports and personal protection with other women. Earning her pistol instructor certification in 2015, she has led training classes throughout the state, often partnering with the Indiana National Guard and members of law enforcement. In her role as First Lady, she encourages young people to always try new things as one means of establishing an attitude of life-long learning. Following her own advice, in 2018 Janet played a small role in a made-for-television holiday movie. This was her first acting experience.
STATE AUDITOR KRISTI RACINES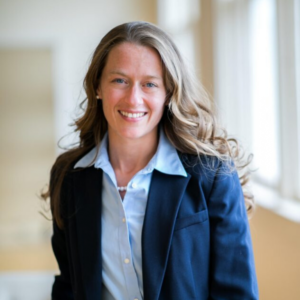 Kristi Racines was elected in November 2018 as Wyoming's 21st State Auditor. The State Auditor serves as the state's chief accountant and payroll officer, and also is a member of the State Loan and Investment Board, the Board of Land Commissioners, and the State Building Commission.
Kristi is a 4th generation Wyomingite with family roots in ranching and in the oil and gas industries. She was raised in Bar Nunn, Evanston, and Riverton. After graduating from Riverton High School, she attended the University of Wyoming, earning a Bachelor of Science in accounting and a Bachelor of Arts in Spanish. She became licensed as a certified Public Accountant and worked as an auditor in the private sector before beginning her state service career in 2010. Until her election, she served as the Chief Fiscal Officer and Director of Human Resources of Wyoming's judicial branch. She has served on the State Employee Compensation Commission, the Government Efficiency Commission, and currently serves on the board of Goodwill of Wyoming.
CRYSTAL GIBSON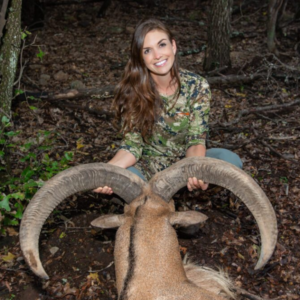 Crystal Gibson grew up two hours outside Salmon, Idaho, without running water, power or neighbors. Crystal and her three siblings were home-schooled while her father worked for a gold mine. Their backyard was elk-calving grounds and national forest, so Crystal's father taught her how to hunt for food, respect animals and the value of conservation at a very young age. Living off the land taught Crystal about the outdoors, and she continues to learn every day. Crystal has hunted elk, antelope, deer, moose and even a challenging Rocky Mountain sheep hunt by herself!
Crystal has continued her passion for the outdoors through her work. She is an outdoor photographer, videographer and host for the hunting TV show "Blue Collar Adventures". Crystal travels the world and takes on adventures with her bow and rifle from Africa to New Zealand. Crystal loves hunting because she can feed her family and it is physically and mentally challenging. Crystal also enjoy teaching others about the importance of conservation in the outdoors.
DANIELLE PREWETT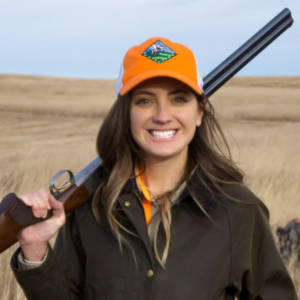 Danielle Prewett is the founder of Wild + Whole and a wild foods contributing editor for MeatEater. Texas is home for Danielle, but her love for the outdoors developed while chasing birds across the grasslands of North Dakota. She has been living off the land for the last several years and is fascinated by the richness of wild game. Danielle strives to portray this beauty by teaching others how to cook and enjoy their harvest.
BRIDGET FABEL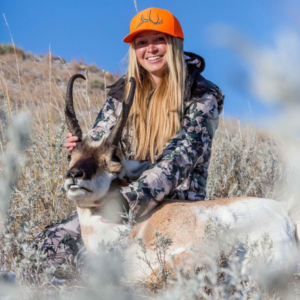 Bridget grew up on a Christmas tree farm in the small town of Stillwater, New Jersey. At the age of 20 she moved west to Utah to chase her hunting and fishing dreams and to pursue an BS in Geology at Utah Valley University. Bridget is now a senior in college, and loves to hunt and fish in her spare time. She has guided fly fishing for four years and owns her own outfitter business, Chunky Trout Outfitters. Bridget also does YouTube videos on hunting, fishing, trailer living, and wild game cooking full-time. Her biggest passion is passing on her confidence and love for the outdoors to America's youth… especially young women!
2018: Media Guest Jodi Stemler
MEDIA GUEST JODI STEMLER
Growing up in central New Jersey does not lend itself to becoming an outdoors-person, but Jodi was fortunate to be raised on her family's farm with hunting and shooting opportunities right out the back door. She went to Rutgers University and studied wildlife ecology- but then then her conservation policy/communications career kept her away from hunting for more than 20 years. She has worked with a wide variety of conservation organizations and agencies through her consulting work, but over the last few years she started freelance outdoor writing. She loves telling stories about her journey as a reactivated hunter and sharing time afield with her husband and her daughter, who is a new hunter. Her articles have appeared in a number of well-known publications and she has won awards each year for her writing. The Wyoming Women's Antelope Hunt is Jodi's first big game hunt.
Read "First Blood: A Women's-Only Wyoming Pronghorn Hunt" to learn more.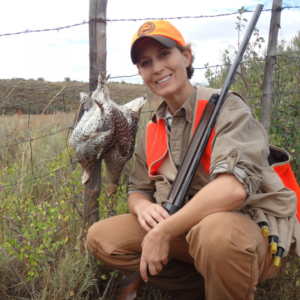 First Blood: A Women's-Only Wyoming Pronghorn Hunt
2017: Wyoming State Auditor Cynthia L. Cloud and media guest Courtney Nicholson
WYOMING STATE AUDITOR CYNTHIA I. CLOUD
Cynthia I. Cloud is the elected state auditor of Wyoming. The state auditor is a constitutional officer elected for a four-year term by the general electorate of Wyoming. The duties of the state auditor include being the chief accountant and payroll officer for state agencies. The auditor is also responsible for the preparation of the comprehensive annual financial report on the fiscal affairs of the state. Cynthia was elected in November 2010 to serve as Wyoming's twentieth state auditor and reelected in 2014 to her second term. She is the first certified public accountant to serve as state auditor in Wyoming.
Cynthia has over 16 years in public accounting and is a successful business owner. She graduated magna cum laude from the University of Alabama in 1991 with a bachelor of science degree in accounting.

MEDIA GUEST COURTNEY NICOLSON
Courtney is a Denver based outdoor writer, producer and editor. She is Senior Writer/Producer for Outdoor Sportsman Group Networks, working on content for Sportsman Channel, Outdoor Channel and World Fishing Network. She also writes a monthly column for Women's Outdoor News called "She Guides" which spotlights women hunting guides around the world. An avid hunter and angler, Courtney is a passionate wing shooter. She also founded Colorado Women Who Hunt, an organization created to connect real women who hunt the Rockies and spark adventures. When not in the field Courtney is a volunteer hunter education instructor with CO Parks & Wildlife and a committee member for both Ducks Unlimited and Trout Unlimited.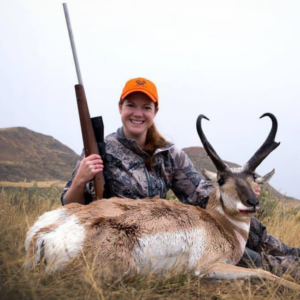 2016: Media guests Donna Boddington and Mia Anstine
MEDIA GUEST
DONNA BODDINGTON
Donna Boddington appears on "The Boddington Experience" on the Sportsman Channel with her husband Craig Boddington, host of the show, and their two daughters Caroline and Brittany as they go on hunting adventures around the world. She has years of hunting experience from hunting whitetail on her farm in Kansas to big game in South America, Asia, Europe, Africa, and Australia. She is also a member of the Prois Hunting Apparel's pro-staff. She is a life member of Safari Club International, life member of the National Rifle Association, sponsor member of the Rocky Mountain Elk Foundation and a member of the National Shooting Sports Foundation.

MIA ANSTINE
Mia has a lifelong commitment to wildlife conservation, hunting ethics, habitat preservation and long time traditions. She loves exploring, learning and sharing life and survival in this modern day Wild West. She created her web and social sites to share outdoor findings, products, firearms, hunts, recipes, stories and news. She shares it all to inspire others to get outside, go hunting, to the shooting range or come together around the table, savoring all life has to offer. She is an outfitter, guide, hunter, mentor, firearms and archery instructor. She's a freelance writer and presenter. She teaches and inspires others to get involved in outdoor activities. She takes pride in guiding ladies and children for their first hunts. She's hunted rest stag, bull tahr, elk, mule deer, black bear, turkey, game birds, waterfowl, predators, varmints, hogs, carp and have more on her bucket list. To learn more about Mia, visit her website at www.MiaAnstine.com.
Remington is supporting Mia's trip to the Wyoming Women's Antelope Hunt.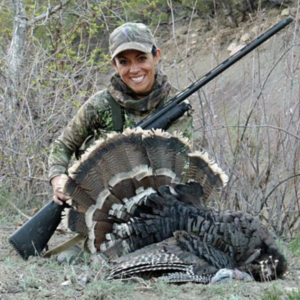 2015: State Superintendent Jillian Balow and media guests Barbara Baird and Jana Waller
WYOMING STATE SUPERINTENDENT JILLIAN BALOW
Jillian Balow was elected Wyoming State Superintendent of Public Instruction in 2014. The State Superintendent supervises public education in Wyoming and is a member of many boards and commissions including the State Board of Land Commissioners, State Loan and Investment Board, University of Wyoming Board of Trustees, State Board of Education, and Community College Commission. Jillian is a fifth-generation Wyoming native. She taught for over a decade in Wyoming elementary and secondary classrooms and found her niche in literacy education and the professional development of others.
Jillian has an undergraduate degree in education from the University of Wyoming and a master's degree in education from Regis University. In addition to teaching, Jillian has consulted in the private sector on education issues and served in a number of roles in state government. Prior to being elected to State Superintendent, Jillian worked as an administrator in the Wyoming Department of Education, policy advisor to Governor Matt Mead, and administrator at the Wyoming Department of Family Services. She's also served on the Wyoming Early Childhood State Advisory Council, the Early Intervention Council, Wyoming Food Bank of the Rockies Board of Directors, St. Mary's Parent Advisory Council, and various committees for charitable causes in her community.
Jillian, her husband John, a junior high principal, and their children Paiton (15) and Jack (8) reside in Cheyenne and attend Wyoming public schools.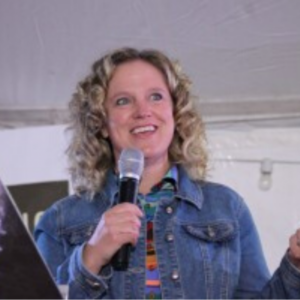 MEDIA GUESTS
BARBARA BAIRD
Barbara Baird is a freelance writer/editor. A former newspaper editor and reporter, she constantly hunts for topics of interest in shooting and outdoor genres. Barbara also publishes Women's Outdoor News online and pens columns for the National Wild Turkey Federation's Turkey Country and Shooting Sports USA. She is a contributing editor at SHOT Business. Hailing from the Ozarks of Missouri, this avid outdoors enthusiast hunts, shoots and fishes.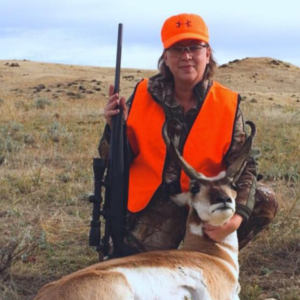 JANA WALLER
Jana Waller grew up in the town of Fort Atkinson, Wisconsin and has been a hunter and angler for three decades. Earning a Public Relations degree from the University of Wisconsin-Whitewater, Jana has blended her passion for hunting and fishing with her communications background, actively promoting women in the outdoors and undeniable relationship between hunters and conservation.
A bowhunting veteran of 20+ years, Jana started out hunting Wisconsin whitetails but has since traveled the globe with her bow in tow, hunting in Africa, Canada and all over North America. Appearing on national television shows such as Invasion on Animal Planet, Outfitter Bootcamp on The Outdoor Channel, and Ammo & Attitude on NBC Sports.
Jana is currently hosting and co-producing her own show called 'SKULL BOUND TV' on The Sportsman Channel where her adventures and her artwork are shared with millions. A 'BONE-IFIED' skull artist, Jana has been painting and beading European skulls for over a decade, selling her unique artwork in galleries and retail stores as well as custom designing skulls for hunters across the country.
A member of the Rocky Mountain Elk Foundation, Safari Club International, National Wild Turkey Federation, United States Sportsman Alliance, NRA and Trout Unlimited, Jana donates numerous skulls annually to conservation groups that help protect our hunting heritage.
Currently residing under Montana's Big Sky, Jana is also a free lance outdoor writer. Her articles have appeared in magazines such as Bowhunter, Turkey Country, Predator Xtreme, Petersen's Bowhunting, Texas Bowhunter's Journal, Lady Hunter and Buckmasters as well as CNN.com, The Sportsman Channel website, Bowhunting.net and Womenhunters.com.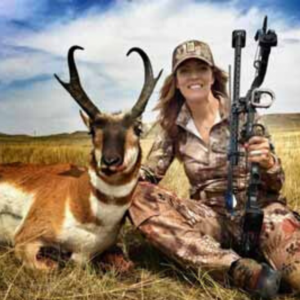 2014: Ashlee Lundvall
ASHLEE LUNDVALL
Ashlee Lundvall is a wife (Russ) and mother (Addison) from Cody, Wyoming. She completed her Bachelor of Science in Public Affairs in 2005 from IUPUI, and earned her Master of Arts in Biblical Counseling from Maranatha Baptist Bible College in 2007. Ashlee is a stay-at-home Mom, an inspirational speaker, and a teacher for computer classes at the Center for Training and Development through Northwest College.
After a paralyzing ranching accident in 1999, Ashlee has been passionate about accessible outdoor recreation. Ashlee is a founding member and current board member of Wyoming Disabled Hunters. She has served as Secretary and as the organization's Facebook page administrator, and she participated as a hunter in the 2009 and 2012 deer hunts, as well as the 2013 elk hunt, where she harvested her first bull elk. Ashlee enjoys reading, cooking, design, teaching, camping, kayaking, hunting, and many other outdoor activities. She was crowned Ms. Wheelchair USA in July 2013, and she loves to travel speaking on behalf of others with disabilities.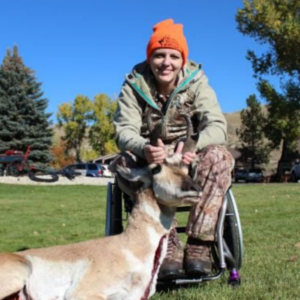 2013: Julie Golob
JULIE GOLOB
Julie Golob is one of the most accomplished professional shooters in the world. She is captain of Smith & Wesson's highly successful shooting team and a member of Team Benelli 3-Gun. A veteran of the U.S. Army Marksmanship Unit (USAMU), she was named both U.S. Army Female Athlete of the Year and USAMU Athlete of the Year. She has won over 120 championship titles in seven different action shooting disciplines. (For a complete list of titles please visit the champion page.)
As a member of the Prois Hunting Apparel Pro Staff, Julie enjoys sharing her passion for the outdoors. This wife, mother and veteran enjoys photography, writing, hunting, cooking (especially wild game), and sharing her love of the shooting sports. As a member of the Prois Hunting Apparel Pro Staff, Julie enjoys sharing her passion for the outdoors.
In 2012 Julie authored her first book, Shoot: Your Guide to Shooting and Competition. Reviews of Shoot showcase the book as a valuable resource for current shooting sports enthusiasts, but also serve as an accessible, relevant, and intelligent guide to newcomers. In addition to authoring Shoot, Julie has also written features for American Handgunner, Front Sight (USPSA), IDPA Tactical Journal, Women's Outdoor Wire, The Outdoor Wire, The Shooting Wire and Women's Outdoor News.
Julie is sought out for her expertise. She is the first female shooting expert to appear on History Channel's Top Shot and Top Guns. Julie is also an outdoor television personality, blogger and she records a monthly podcast that offers shooting tips and insight on the world of shooting sports and competition.
Julie has been featured in/on: 3-Gun Nation, AdWeek, American Handgunner, American Rifleman, American Trigger Sports Network, Benelli On Assignment, Blue Press, CNBC's Mike Hegedus – Mike on America, Crimson Trace – The Art of Survival DVD, The Daily Caller, DownRange.TV, Front Sight (USPSA), Girls Guide to Guns, The Glock In Competition (2nd Edition), Gun (Japan), Guns & Gear TV, Gun Games, Guns Magazine, Gun Talk TV, History Channel, MTV, OutdoorChannel.com, Shooting Gallery, Shooting Illustrated, Shooting Sports USA, Shooting USA, Soldiers Magazine, Sports Illustrated, Tactical Journal (IDPA), History's Top Shot, H2′s Top Guns, Women & Guns, WON Guns and more.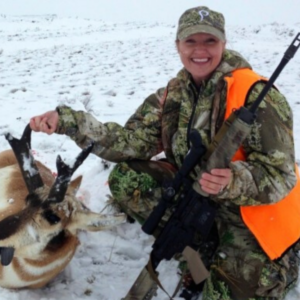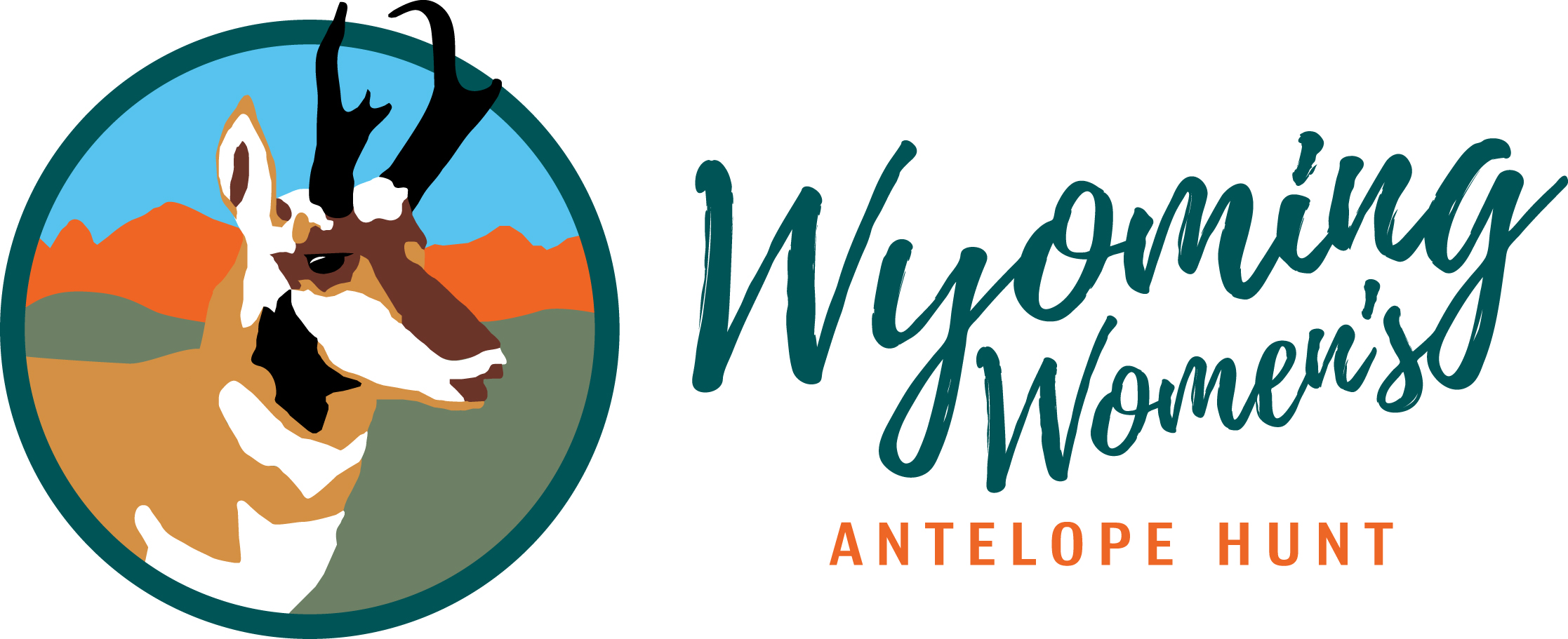 Hosted by the Wyoming Women's Foundation