The 2023 Legislative Session Concluded on March 3rd, 2023!
The Wyoming Women's Foundation finished the Legislative Session by attending the Governor's signing of HB04 into law! It was a joyous event, with lots of emotion, words of congratulations, and a genuinely positive cap on the session. Our director, Rebekah Hazelton, spoke of the moms and babies who would be helped by this law. This law brings us one step closer to economic self-sufficiency for Wyoming women.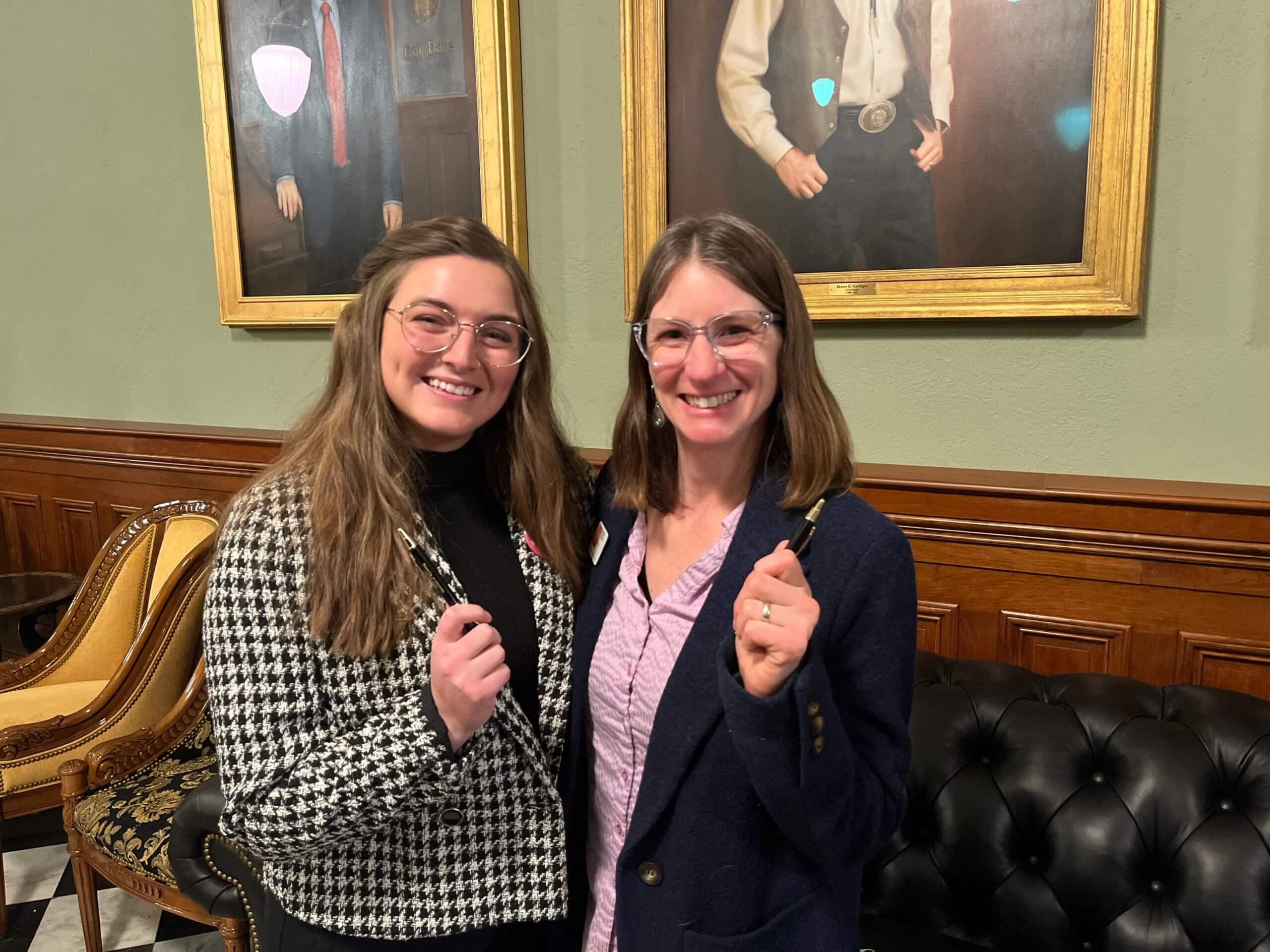 Rebekah Hazelton (right), WYWF Director, and Marissa Carpio (left), WYWF Policy Associate, hold pens from the Governor's signing of HB04.
Hard work paid off!
To say that it was a smooth-sailing path to victory for HB04 would be a minimization of the hard work done by a dozen organizations and lobbyists, and many constituents and legislators. The bill, although it was a committee-sponsored bill that was introduced on the first day of the Legislative Session, narrowly made it through each hurdle on almost every cutoff date. This wasn't a coincidence; there were efforts to keep this bill from passing. It is a testament to the hard work from all over the state that this bill passed, despite the many attempts to quash it.
We are worried to see a bill that we opposed, SF109, make it through the House and Senate. WYWF is concerned that this law will limit access to medically necessary pharmaceuticals for Wyoming women. Although exemptions in this bill are included, physicians, pharmacists, and other medical professionals may be guilty of a misdemeanor if they are found to administer the types of drugs listed in the bill. These drugs are used for the treatment of miscarriages, induction of labor, and other pregnancy health complications. The bill was signed into law but is currently not in effect as it moves through a lawsuit.
But, for WYWF, there were so many instances that showed that the Wyoming Legislature listens to its constituents.
Multiple bills that would have created barriers to women's economic self sufficiency died this session! Bills that were tied to national agendas, instead of Wyoming-based problems and solutions were voted down or died due to procedural deadlines. Multiple bills, like SF177 and HB87, would have criminally punished librarians and educators for carrying materials on health concepts or discussing health with children. These groups were historically protected from criminal punishment to enable them to effectively carry out their work. Teachers and school health staff need the ability to educate students on basic sex and biological education concepts for students' safety and wellness.
Two runoff bills, which would have foreclosed instant runoff voting, died this session. Instant run-offs happen under a ranked choice voting system when the election is for a single position, which is less costly and more efficient than traditional runoff elections. Ranked choice voting has historically resulted in more women elected than winner-takes-all systems.
A handful of bills that will improve access to women's healthcare, like the two compacts that will allow more mental health specialists to practice in Wyoming, were signed into law. Another bill, HB195, provides funding to train mental health first responders in the state. We are looking forward to the changes that these bills will make in terms of Wyoming's mental health professional shortages!
WYWF was enthusiastic about the momentum behind conversations about access to and affordability of child care in Wyoming. These conversations are expected to continue into the interim. Presumptive child support amounts were adjusted to almost meet inflation—for the first time in many years!
In Closing…
WYWF was pleased to make connections with legislators, lobbyists, organizations, and constituents during this session. A valiant advocacy effort was given by all, and now we are gearing up to prepare for the Interim!
The Interim is the period between legislative sessions when legislators meet in committees across the state to study topics! Last month, management Council finalized the list of approved interim committee topics. These are the topics that the committees will review throughout the interim, the budget for the interim, and the ranked priorities for the committees. Keep an eye out for WYWF's 2023 Interim Priorities as we continue to track what matters most for Wyoming women.
Sign up to be a Power Advocate to get all the Interim and WYWF Advocacy event updates.
Email Marissa at marissa@wycf.org for questions about WYWF advocacy.