Past Years' Legislative Watch
2020 Special Session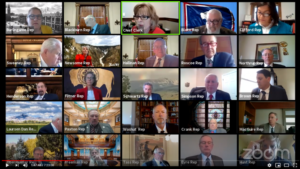 Click here to view WYWF Legislative Watch May 15-16
The federal Coronavirus Aid, Relief and Economic Security (CARES) Act provided the State government of Wyoming with one billion two hundred fifty million dollars ($1,250,000,000) for costs that are necessary expenditures incurred due to the public health emergency with respect to COVID19.
Governor Mark Gordon convened a special (virtual) session of the Wyoming Legislature to appropriate the CARES Act funds and respond to the COVID-19 pandemic.
Lawmakers met on May 15-16 and spent two full days discussing four mirrored bill. Visit Lawmakers begin appropriating federal aid money to learn more.
Visit wyoleg.gov to access:
Governor Gordon's full message to the Wyoming Legislature
Archived footage of the Special Session
2020 General Budget Session
The Wyoming Legislature convened for 24 days in 2020. Lawmakers introduced a record 398 bills and passed 167 into law.
Click here to view WYWF 2020 Budget Session Legislative Watch
Click here to view WYWF Budget Session Recap
Trish Worley, Tara Muir, Jennifer Wilmetti, Megan Degenfelder, Bekah Smith, Alex Shannon and Jennifer Simon pose for a photo in the rotunda of the Wyoming State Capitol Building.
Photo by Wyoming Community Foundation